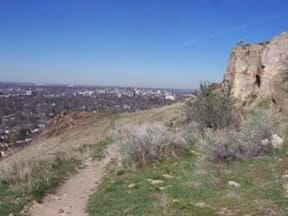 The Table Rock area offers challenging hiking and mountain biking opportunities. Most users access these trails from the Old Idaho Penitentiary parking lot, where there is a kiosk and directional signage for the trails. The Table Rock area offers stunning views of Boise and the Treasure Valley, and is a favorite among trail enthusiasts for sunset hikes and rides. The Table Rock area should be avoided when the temperatures are above freezing during winter months, as well as after spring and summer rain storms, as the soils contain significant amounts of clay, and trail damage occurs easily at such times.
A Few Nice Options
This trail climbs steeply from the Old Penitentiary parking lot, to the top of Table Rock. It is an old road, so it is quite wide for the majority of its length. This is probably the most popular route to the top of Table Rock.
This trail starts by traversing the quiet backside of Table Rock, with expansive views of the upper Warm Springs drainage. The south side of this trail meanders beneath sandstone cliffs, affording sweeping views of the Treasure Valley and Owyhee Mountains in the distance before tying back in to Table Rock Trail #15 for a nice loop opportunity.
This is a shorter and easier loop trail that leaves from the Old Penitentiary parking lot, and ascends the prominent point just to the west. It provides nice views for minimal effort.
The Rock Island trail provides technical challenge for mountain bikers, as it traverses numerous small rock features on the large plateau below Table Rock. Ride this trail at your own risk, and only if you are ready for this type of challenge.
All-Weather Trails
The Shoshone-Bannock Tribes Trail #19A and the lower reaches of the Shoshone-Paiute Tribes Loop #19 have a compacted sand and gravel surface, allowing them to be firm and usable when most other trails are too muddy.  These all-weather trails are great short hike alternatives for those times when much of the rest of the trail system is off-limits due to muddy conditions.