This 734 acre natural area is named for Fort Boise and the associated military maneuvers that were performed here between the 1860s and 1940s. The area served several purposes, including the staging of gunnery practice into the hills above. After the military halted its operations, the community recognized the importance of this area and the Boise Front for recreation and wildlife values. Boise City acquired title to the property from the Federal government for "recreation and public purposes". It is managed as a recreation and wildlife reserve, with human activities allowed in ways that do not detract from the natural values.
Military Reserve Dog Park Maintenance Work
Boise Parks and Recreation will be completing maintenance work at the Military Reserve Dog Park over the next few weeks. The project started in early May and will address issues with the turf. Due to heavy use, the sod installed in the main large dog area has slowly turned to dirt and mud. This is despite our team's best efforts to support and maintain the turf since it's installation in 2019. In addition, the mesh used to uphold the integrity of the sod is now exposed and causing safety issues. For safety and continued maintenance purposes, the sod and mesh will be removed and replaced with chat, a type of small, smooth gravel surface material that is used in other areas of the dog park and at several of the city's other dog off-leash locations as well as along portions of the Boise River Greenbelt. The large dog area will be closed during this work, which is expected to take approximately two weeks. We appreciate your patience as this maintenance work is completed.
A Few Nice Options
Separation of Use – Bucktail Trail is open to downhill mountain bike traffic only. Uphill mountain bike access is via Central Ridge Trail. A new pedestrian-only trail named Two Point Trail has been constructed between Central Ridge and Bucktail Trail for hikers and equestrians.
This trail, when combined with any number of trails in Military Reserve, makes a great loop. It affords wonderful views of downtown Boise and surrounding parts of this natural reserve. Best bet for fall color viewing.
Often referred to as "The Black Forest", you won't find any European castles, but you will find a pleasant and rewarding trail through cottonwood stands and open sagebrush flats. Please avoid the volunteer trails that meander through the brush as this area is set aside for wildlife to enjoy.
Parts of this trail are surfaced with asphalt to serve maintenance of nearby communications towers. Because of this, the trail can be a good foul weather alternate and sports some fine views of the downtown area and a birds-eye perspective of Cottonwood Creek.
This trail links the Cottonwood Creek and Freestone Creek drainages and is part of the "North by Northwest" crossing of the lower reaches of the Boise Front. This trail should be avoided during winter months unless the temperature is below freezing as it is comprised of heavy clay soils that damage easily when muddy.
This trail is part of the connection between Military and Hulls Gulch Reserves. This combined with the Kestrel and Red Fox Trails, is also part of the "North by Northwest" crossing of the lower Boise Front. Please stay on the trail since it crosses through a rare plant area.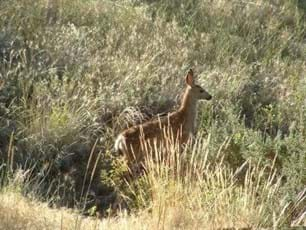 Trailhead Parking
Please park only in the following designated areas.
Two trailheads accessing this area are located along Mountain Cove Road. Cottonwood Creek Trailhead is located .5 miles up Mountain Cove Road from the Reserve Street intersection. Freestone Trailhead is located another .4 miles further on Mountain Cove Road. Both are located on the east side of the road.