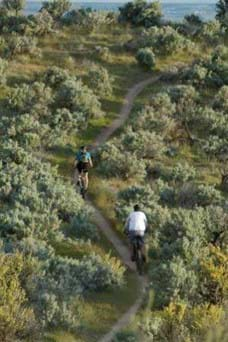 The Polecat Trail system was developed in 2007. It contains over 7 miles of winding single track trails that offer outstanding views of the Treasure Valley as well as the Boise ridgeline. Trails in this area cross through lands managed by the Bureau of Land Management and the City of Boise. Please stay only on system trails. The Polecat Reserve trails are excellent beginner trails for mountain bikers, due to their relatively easy grades.
Dogs must remain on-leash at all times on all Polecat Reserve trails to protect populations of the threatened Aase's Onion as well as critical wildlife found in the area.
Wildlife abound in Polecat Gulch, where it is not uncommon to see deer or coyotes, as well as birds such as quail, hawks and eagles.
There are several loop options in Polecat Reserve, the longest being the 5.8 mile Polecat Loop Trail #81. This loop follows numerous finger ridges on the west side of the Reserve, before looping back through the Polecat drainage and returning via a traverse high above Cartwright Road.
Those wanting a shorter loop option can combine a portion of the Polecat Loop Trail with either Doe Ridge Trail #82 or Quick Draw Trail #83.
Polecat Loop Trail needs to be traveled counterclockwise as per our 2021 pilot management strategy program.
Trailhead Parking
Parking is available for 12 cars at the Cartwright Trailhead on Cartwright Road, .25-miles east of its junction with Pierce Park Road. The Polecat Gulch - Collister Trailhead, located at the end of Collister Road, includes a 15-stall gravel parking lot and a vault toilet.