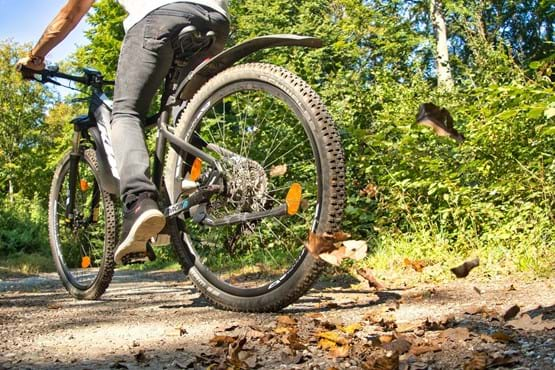 Please help us preserve the integrity of these trails by riding only when they are firm and dry.
Motorcycles, ATVs, E-bikes and wet trails don't mix well – the trail ends up losing – becoming a series of large ruts.
Please ride slowly on mixed use trails – especially the section of 8th Street Motorcycle Trail #4 between the 8th Street Motorcycle Parking Lot and the Fat-Tire Traverse Trail #42 junction – as this area is heavily used by hikers, runners and mountain bikers as well.
Ride only on trails open to motorized use.
E-bike Use
The City of Boise does provide an accommodation under the Americans with Disabilities Act (ADA) to individuals with a mobility disability to ride an e-bike as defined by the City of Boise on certain city-owned property with Ridge to Rivers trails. Users are asked to visit either the Boise Parks and Recreation Admin Office (1104 Royal Blvd.) or the Fort Boise Community Center (700 Robbins Rd.) to complete the accommodation process. Please bring the following:
A valid state-issued disability parking placard or other state-issued proof of disability
Documentation from your E-bike purchase that outlines the power output of your E-bike motor (must be no more than 750 watts with a top speed of 20 m.p.h.)
Questions? Please call the Boise Parks and Recreation: 208-608-7600 or BPR@cityofboise.org.
E-bike use on the Ridge to Rivers trail network is restricted to trails and roads that currently allow motorized use. Federal agency partners prohibit E-bikes and other motorized devices on all trails that cross BLM and USFS land. Approximately, 52 miles of motorized trails and primitive roads are accessible for E-bikes.
Trails and Roads open to E-bikes and other motorized devices:
More information on these trails and roads can be found on the Ridge to Rivers map.