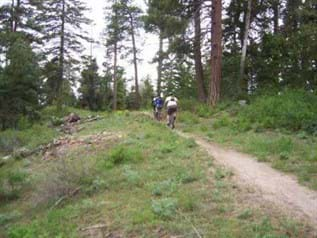 Close to 50 miles of high elevation trails exist in the Shafer Butte area. These trails differ significantly from the rest of the Ridge to Rivers system, as they are located in the mountainous forests and meadows above Boise. The Shafer trails are a great location to enjoy cooler temperatures during the heat of the summer. The Shafer area trails can be classified into two categories – those above Bogus Basin Road, and those below Bogus Basin Road. Each have their own unique characteristics, however most notably, those above the road tend to climb then descend, while those below the road begin with long descents and finish with long climbs.
A Few Nice Options
This loop begins and ends at the Bogus Basin Nordic Lodge. Occasional log and rock obstacles will be encountered on this trail, making for challenging mountain bike stunts.
Eastside descends gradually for approximately 3.5 miles along flowing, forested singletrack. The Sinker Creek Trail descends an additional 2.5 miles, before beginning the climb back toward Bogus Basin via DB Connector and Eastside.
NOTE: Numerous other trails exist in this area that are not part of the Ridge to Rivers system. These trails are not signed or maintained, and often cross private land without authorization. Stay only on signed, system trails to avoid getting lost or ending up on private land.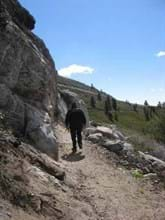 Select Loops above Bogus Basin Road
This is an excellent loop comprised primarily of moderate single track. The loop starts and ends at Simplot Lodge (Bogus Basin base area). Each of these trails alternate between crossing through tall stands of fir and lodgepole, and across grassy ski runs dotted with wildflowers. Morningstar incorporates a handful of technical ramps that one can try their had at, or choose to easily avoid. Views from the top include a large swath of southern Idaho to the south, as well as the mountains of central Idaho to the north and east. The jagged peaks of the Sawtooth Mountains are quite visible from the start of the Elk Meadows Trail.
Watch your speed along the Lodge Trail cat track, as it is used by Bogus Basin service vehicles during summer months.
This loop has fast become one of the most popular rides in Idaho. It combines moderate to challenging climbs with long sections of enjoyable single track, meandering through forests and across Bogus Basin's many ski runs that in the summer months become lush meadows. The loop truly does take you completely around Shafer Butte and the entire Bogus Basin Ski Area, affording tremendous views that change as you travel "around the mountain!"
Trailhead Parking
Parking is available at the Bogus Basin Nordic Lodge and Simplot Lodge.