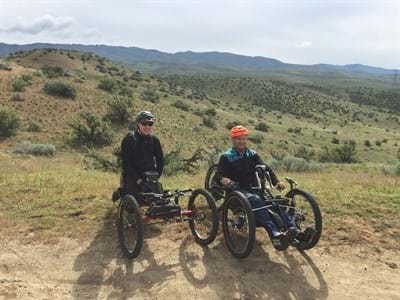 If you use a wheelchair as your primary mobility device you are allowed to access any trail on the Ridge to River system.  Please be sure however that the width of your mobility device does not exceed the maintained width of the trail.  Some trails will be less enjoyable than others given the width of the trail and the terrain. We have provided a list of trails below, with specific details to provide you with a better experience.  
If a wheelchair is not your primary mode of transportation, but an accommodation is required for your mobility please follow the link to learn more about motorized trails and available accommodations.
The City of Boise does provide an accommodation under the Americans with Disabilities Act (ADA) to individuals with a mobility disability to ride an e-bike as defined by the City of Boise on certain city-owned Ridge to Rivers trails. Users are asked to visit either the Boise Parks and Recreation Admin Office (1104 Royal Blvd.) or the Fort Boise Community Center (700 Robbins Rd.) to complete the accommodation process. Please bring the following: 
A valid state-issued disability parking placard or other state-issued proof of disability
Documentation from your e-bike purchase that outlines the power output of your e-bike motor (must be no more than 750 watts with a top speed of 20 m.p.h.)
Questions? Please call the Boise Parks and Recreation: 208-608-7600 or email BPR@cityofboise.org
Recommended Trail Details
Handbike Trails
Many Ridge to Rivers trails follow old jeep routes – meaning that they are relatively wide, with flat and steeper sections inter-mixed.  These can make for enjoyable but challenging outings on a handbike. It is important to note that handbikes are not allowed on trails that are too narrow to accommodate their width.  This is both a resource protection and a safety measure.
Some suggestions include:
Kestrel Trail #39A
NOTES: Trail is minimum 36" wide, with uneven tread, but relatively few obstacles other than drain dips designed to mitigate erosion. First half of trail is relatively flat, with blind corners. Second half of trail climbs relatively steeply with good sight lines. Trail receives heavy mountain bike use.
Crestline Trail #28
NOTES: Trail is minimum 48" wide. There is a steep 200 foot climb approximately 600 feet beyond the Kestrel Trail junction. Beyond that the trail is flat with good sight lines. Recommend turning around at the junction with 8th

 

Street Motorcycle Trail #4. Trail receives heavy mountain bike use.
Corrals Trail #31
NOTES: First 1.5 miles of this trail are relatively flat and very wide, with long sightlines. Beyond this point, the trail becomes increasingly rocky, narrower and steeper.
Hard Guy Trail #33
NOTES: The first 3.8 miles of this trail follow an old jeep route. The route is wide enough for hand bikes, though quite steep in places and is a very consistent climb. The final 1 mile of this trail becomes progressively narrower and rockier, prohibiting handbike use. Sight lines are excellent on this trail.
Table Rock Trail #15
NOTES: This trail is very wide, with long sight lines. It is also a very aggressive climb. All other trails in the Table Rock area are too narrow for handbikes.
Homestead Trail #12
NOTES: This trail ascends aggressively along an old road route. As such it is challenging, yet very wide with long sight lines.
Red Fox Trail #36
NOTES: Trail has a mix of tread conditions ranging from soft sand closer to the Camelsback area, to road mix at the northern end. Width also ranges from full road size down to 48". Sight lines are fairly good, though the trail is heavily used by mountain bikers. Trail is relatively flat, with one short, notable climb in the Hulls Pond area.
Ski area cat tracks and Nordic trails at Bogus Basin
NOTES: Most cat tracks, and many Nordic trails double as hiking and biking routes during summer months. These routes are wide, though often steep and contain limited visibility. It is not uncommon to encounter Bogus Basin service vehicles along the following cat tracks/trails: Sunshine, Pioneer, Bogus Creek, Packing, Lodge, Cabin Traverse.