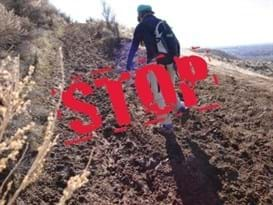 Using trails when they are muddy is the leading cause of trail damage on the Ridge to Rivers system. 
Please help up preserve the integrity of our trail system by doing the following: 
Stay off of muddy trails. Pay attention - if you are leaving tracks, turn back.
In winter, ride or hike early in the morning when trails are frozen hard.
Check daily trail conditions on our website or on Facebook to know whether you should be on the trails during winter months.
If you encounter short stretches of mud, ride or walk through them. Don't leave the trail as this kills trailside vegetation and leads to trail widening.
Trails to definitely avoid (due to higher clay content) when conditions appear marginal:
All-Weather Trails - Good under almost every weather condition: 
Good bets (due to sandier soils) when conditions are marginal: